We Are A Top DISH Network Partner
All American DISH is a top DISH Network partner and has been connecting new customers to DISH TV packages for over 30 years.

CALL TODAY AND SAVE:

1 (800) 950-7100
All American Dish Has Over 30 Years of Serving You
All American Dish is a marketing and sales organization based in Indianapolis, IN. We market and sell satellite TV, high-speed Internet, and home security services nationwide for our Fortune 500 partners, including top brands like DISH Network, ADT, and HughesNet. Our 30+ years of experience has placed us as one of the top sales and marketing companies for our partners in the telecommunications industry.
We help you get the services you love at a great price.
Save a

Bundle

with DISH TV and Internet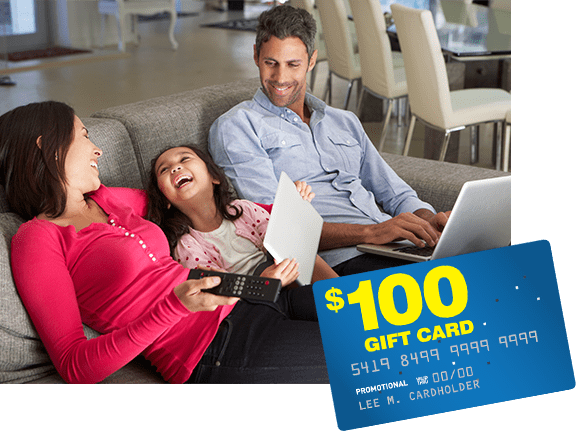 We understand how important it is for you to get the best deal. That's why Dish is tuned into your needs by bundling the best satellite TV packages with high-speed internet providers. New customers who sign up for a Dish TV and Internet offer in November may also be qualified to receive a free $100 gift card.
Limited Time New Customer Offer
Must Mention Code: CARD100
CALL NOW: 1 (800) 950-7100
What's the Best Dish Network Package for You?
COMPARE OUR MOST POPULAR PACKAGES
3-Year Price Guarantee
Smart HD DVR included
Voice Remote with Google Assistant
Family Friendly Programming, News
Local Channel Included
Over 28,000 free On Demand titles
 3-Year Price Guarantee
Smart HD DVR included
Voice Remote with Google Assistant
News, Movies, Family TV, Sports
Local Channel Included
Over 28,000 free On Demand titles
3-Year Price Guarantee
Smart HD DVR included
Voice Remote with Google Assistant
Family TV, Movie Channels, Sports
Local Channel Included
Over 35,000 free On Demand titles
$300 Gift Card Offer
3-Year Price Guarantee
Smart HD DVR included
Voice Remote with Google Assistant
HD Channels, Movies, Sports, Family TV
Local Channel Included
Over 36,000 On Demand titles
$300 Gift Card Offer
Upgrade To The DISH Hopper Plus DVR and Get
SMART REMOTE WITH  VOICE REMOTE & GOOGLE ASSISTANT
Stream Built-In Apps
Access Netflix from Your Hopper*
Bluetooth Connectivity
Easily pair your smart devices

CALL TODAY AND SAVE:

1 (800) 950-7100